Final Products Name:waste felt, geotextile , needle punching fabric.
Raw Material:Polyester staple fiber, polyester hollow staple fiber (optional),Low melting point fiber and natural wool fiber etc, specification:0.7D-25D
Production process: A percentage of polyester staple fiber ,hollow staple polyester( waste fiber or waste cloth fiber) and low melting point fibers be opened and blended by opener, then carded and lapped with required thickness, and set by the process of needle , oven and setting.
 Products feature: good permeability, good warmth retention property, lightweight sound absorbing, high resilience, anti-aging, washable, clean with no harmful substances.
Products Application: The product is widely applied to industry,high way uses.
Needle Punching Type : Single Needle Plate Upper   
Needle Punching.
 Stroke :30mm
 Needle Spread Form : computer irregular messy form.
 The density of needle spread : 7500s/m--8000s/m
 The speed of outputting fabric :1-12m/min    
  The needle plate adopts aluminum-magnesium alloy plate. Needle hole diameter is ¢1.83mm and stripping plate adopts 10mm plate, moreover the end of the needle plate adopts 12mm plate, and the bottom of the end of needle plate is hit cone, besides the surfaces of the two plate are doing electroplating treatment
The eccentric and the main spindle bearings adopt famous domestic brand.  
 The feeding mesh roller adopts ¢159mm seamless steel pipe, and the outputting roller adopts ¢159mm steel pipe.
The stripping plate and the end of needle plate adopt worm wheel electric lift.
ng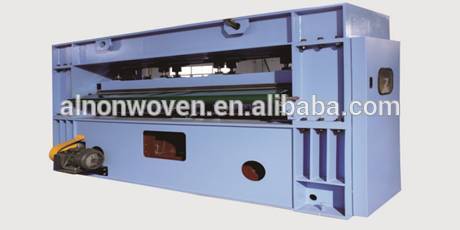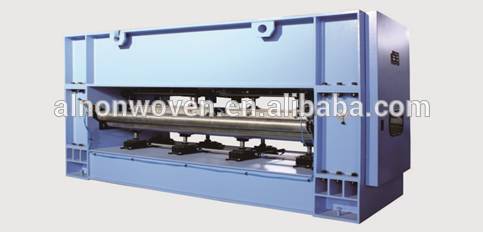 machine's show