Product Description
               Hot Sale AL-3200mm SMS PP Nonwoven Fabric Making Machine 
1. Brief Introduction to the production process of AL-3200mm SMS PP Nonwoven Fabric . 
The AL-3200mm SMS PP Nonwoven Fabric Making Machine adopts PP chips as inputting raw materials , which  undergoes the process of extrusion, filtering , metering pump, spinning, quenching, closure air stretching, web formation, calendaring, winding and cutting  and then packed for storage and delivery.
2. The Features of  PP Nonwoven Fabric Making Machine.
1) It is featured by lower investment, compact construction, small area, simple production technology, simple operation, saving of labor and widely compatibility and so on. 
The equipment produces non-woven fabric with polypropylene(PP), adopts the technology of formating the web by negative pressure, make into PP spun-bonded non-woven fabric, the product is featured by uniform cover, great intensity, good ventilation and good feeling and so on. It has been widely used  in medical clothes, package and architecture and so on.
2) The lower investment can reduce some unnecessary additional auxiliary facilities, and under the conditions of guaranteeing the technology requirement and safe production, can reduce the cost of the manufacture, so that we can reduce the investment lower.
3) Its easy and reliable to making technics adjustment, the line adopts the method of computer controlling assistant systems combines with human control to make the technics adjustment become more easier and reliable, and the machine can adapt to different raw materials to gain more widely usage.
4) The requirement of the workshop and equipment is very simple, it reduces the fixed assets investment, and efficiently take the advantage of the room of the platform, and enlarge the utilization of the workshop and the steel platform.
5) More specialty in processing the main equipment increasing the procession precious and capacity of the machine, this reduces the manufacture cost and to undertake the quality of the product more well.
3. Process Flow of PP Nonwoven Fabric Making Machine.
Raw material--- edge recycling--- melt extrusion--- filtering--- measurement--- filtering--- spinning--- cooling--- air drawing--- air diffusion--- air laying--- cooling--- winding--- slitting--- packaging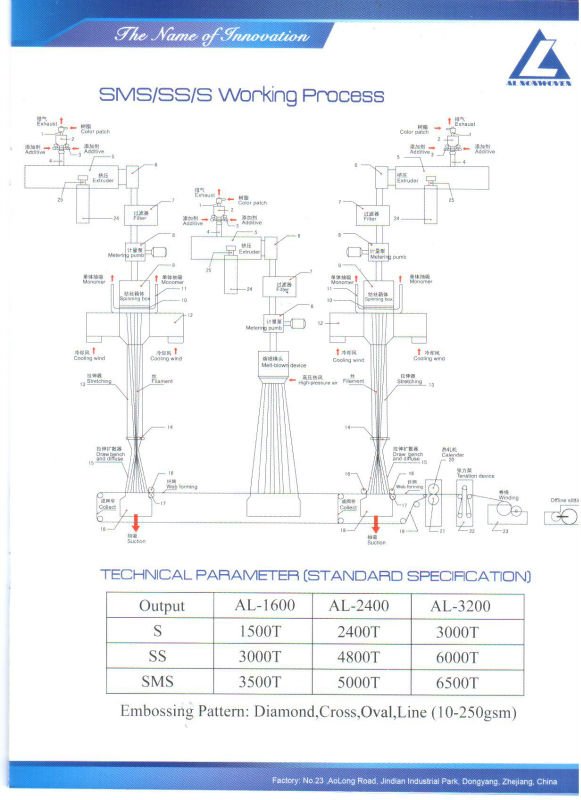 4. Products Application Field: 
1) Medical and Health: Operation suit, operation tablecloth, patient suit, exposure suit, respirator, packing bags , Surgical gown&cap etc.
2) Labor Safety Goods: Protect clothing, cover for car and motor, dust cover, raincoat, work clothes for spraying the paint etc.
3) Cleaning Goods: Baby diaper, incontinent adults pad, sanitary napkin, filtering material etc.
4) Travelling Goods: Beach umbrella, beach suit, recovery bag etc.
 5. Product Samples of AL-3200MM SMS PP Nonwoven Fabric Making Machine.