AL-2400S  single beam spunbond nonwoven fabric making machine, is made by A.L NONWOVEN, with high output 2400T/year(say 300days year,fabric 40gsm), and low power consumption 130kw.
The manufacturing technology of model AL-2400S  non woven fabric making machine, are wildly used to produce  fabric  below:
Packing and Industry .Such as 

shopping bags , shoes bags, tarpaulins tens, rice bags ,cleaner bags, buff pad,interlining and cloth shoulder padding etc.

Agriculture. Such as tree cover, crop cover, garden cover etc.
Parts of spunbond non woven fabric making machine for shopping bags , shoes bags:
Screw extruder-----> Rim charge auxiliary screw and recycling device---->Spinning beam----->Filter---->Metering pump-----> Monomer suction device ----->Quenching air chamber----> Stretching device-->Calender------>  Winder and suction system ----> Rewinder
Working flow chart
Additive (recycling waste )----->Raw material----> Melting and Extruding----->Filtering----> Measuring----> Spinning ----> Cooling-----> Air drawing----->Web forming ----> Calendering---->rolling up----> cutting and packing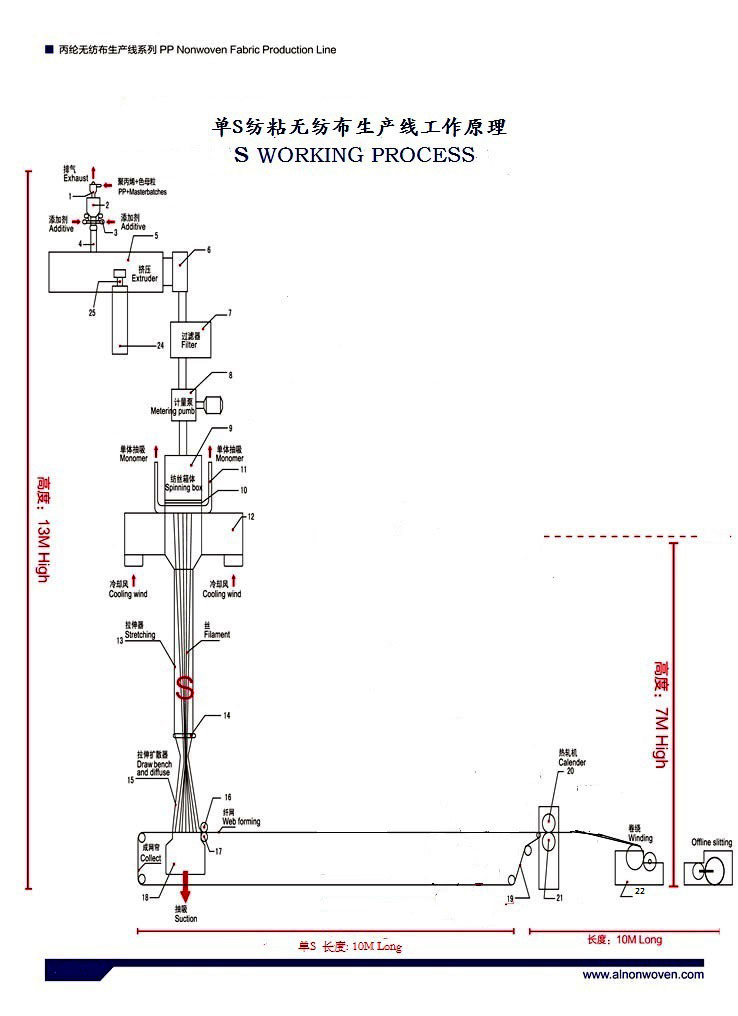 A. How I get right Machine for me , If I have no ideal about  the machine ?
B: It's doesn't matter. Tell me what kind of fabric that you want  the machine , how much you want to produce  and factory szie etc. We will design for you.
A.I already have  one factory but there is a little of different  in the size ,For example  the height  can't meet the 13m , only 12m?
B:Don't worry. Your machine will be customized.
A How to make sure your machine's quality?how about the service?
B: Each machine gets ISO9001:2008,CE, SGS. And warranty is one year. you can enjoy the service  within production lifetime.