Raw material:Low melting point fiber and polyester.
Theory: mix the low melting point fiber and polyester,melt the low melting point fiber by high temperature, then the two material bonded by thermal.
Application: The stiff waddings produced by this machine unit is replacement of sponge,used for exclusive mattress,sofa cushion,tatami,filtering material and acoustic flet,etc. The stiff waddings dryer adopts stainless steel chain plate structure,to ensure the smoothness and flatness of product surface.
Production Line Processing :
Bale Opener→Main opening→Big Cabinet Blender →Vibrating Feeder→Single Cylinder Carding Machine→Cross Lapper→Drying and Setting Oven→Cooling Machine→Automatic Slitter and Winder
Main opening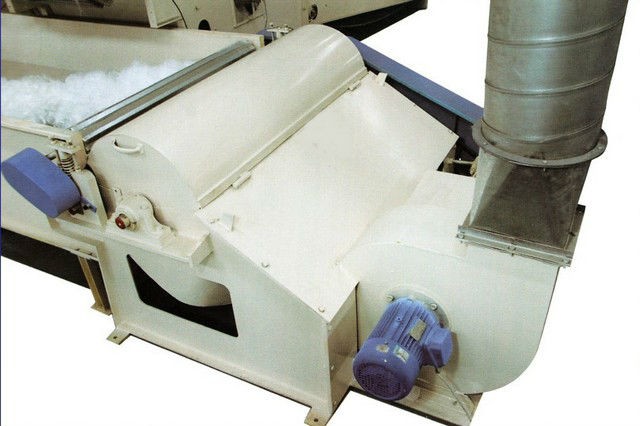 Breaking part with Box type seal structure, machine body adopts CNC laser cutting processing.Break roller φ450 with aluminum alloys pin board.Adopting clamp on slot type roller feeding ,upper roller spring lifting.Conveying pipe exist with bridge type ultra-strong permanent magnet to prevent metal into next process. Automatic linkage Control
feeding machine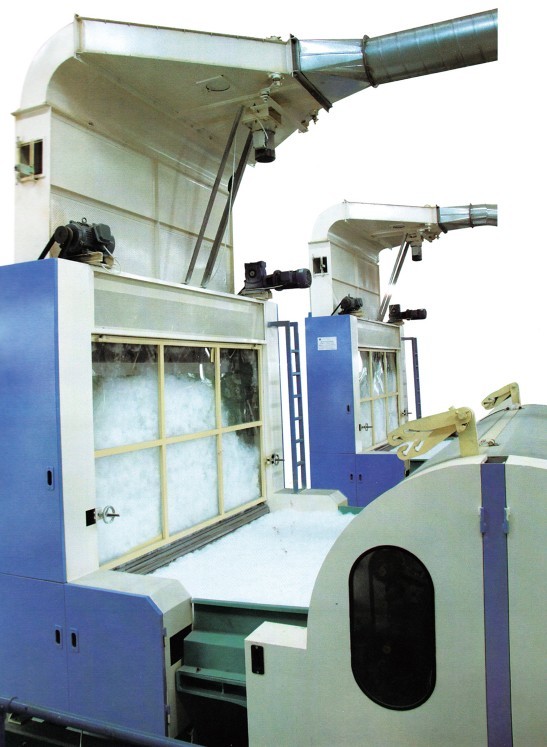 Output: Matching with carding machine,Conveying line speed0.5—3m/min(matching with carding machine),Spike lattice is wooden bar with steel nail, bottom with sealed canvas,Front and back installed with 2sets of photoelectric automatic linkage control, the height can be adjustable,Mechanical horizontal well cotton structure,Two fans equipped on the both sides, spike lattice to prevent cotton leaking,Machine body adopts CNC laser cutting processing,Spike lattice frequency control.
 Cross Lapper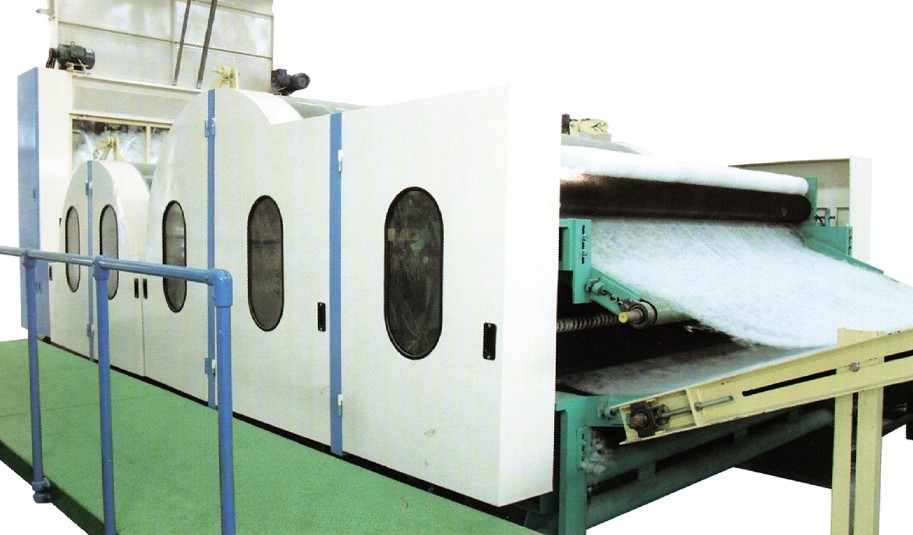 All the horizontal moving rollers adopt seamless steel pipes,Reciprocating movement with multistage speed control (PLC programmed control, touch screen), 4kw motor frequency control with PLC, 8M synchronous belt drive straight after, reversal time within 20 microseconds to make sure the uniformity,Bamboo ring lattice, compensation apron by ventilating bamboo to prevent uneven airflow when webbing, motor2.2kw frequency control.The exit of bottom output lattice with press-roller(stainless steel roller) dia 300mm by manual lifting, the bottom lattice with point control lifting by individual motor, with clip lattice.
Single-cylinder, double doff, double random Carding Machine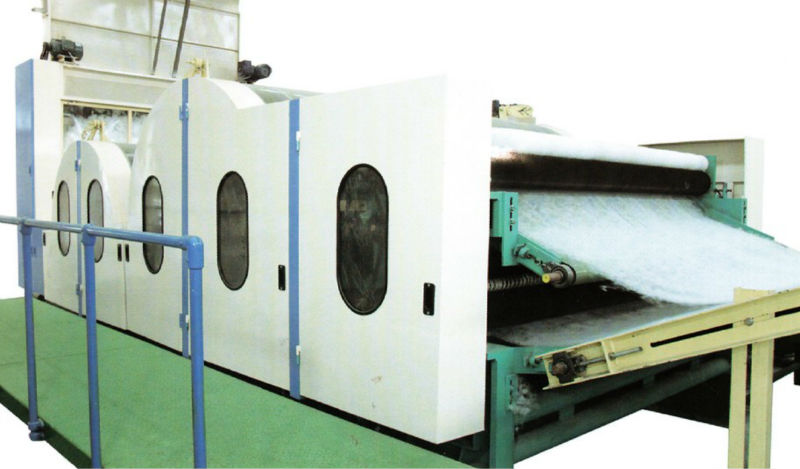 Mechanical type: Single Cylinder double doffer four clutter  . Output line speed:15~40m/min,Main cylinder dia 1230mm with 5 sets working zones. Four rollers feeding with frequency control, installed with anti-metal alarm and auto-reverse function,  Installed with 5 sets frequency changer to control the feeding, cylinder, doffer, inner clutter, outer clutter, Two layers output, the lattice is PVC lattice.Top cover with PVC material,and lifting with air pressur, 4kw motor suction edge fan on each side of the machin,  Bottom with conveying dust collection, together with the dust collection of the vibrating feeder