AL--SS PP Spunbond Nonwoven Production line
  PP Spunbond Nonwoven Production Line 
 Spunbond Nonwoven Production Line
Nonwoven Production Line 
Final Products Name:PP Spun-bond Non-woven Fabric Making  Production Line
Raw Material: Polypropylene granule,master batches,additive;
Production Process: With high temperature filament drawn, certain proportion of polypropylene, masterbatch and additive are drawn into net by negative pressure, which are boned together being into fabric by calender.
Products Features: Easy operation; High capacity; no pollution and no waste; Fabric uniformity&High strength&Good touch feeling.
Application: The final fabrics are used for hygienic material, packing, agricultural cover , clothing packing, household products, hotel accessories etc;
Raw Material ratio: Raw Material Ratio: Polypropylene, master batch, additive.
 Model No.

 AL-1600mm ----4200mm  SS

 Width

 1600mm-----4200mm

 Fiber Denier

 

 ≤2.0D

 Fabric GSM

 15~250g/m2

 Pattern

 cross , diamend, line

 Screw Dia.

 130, 30:1

 Machine Speed

 10~250m/min

 Capacity

3000T/Year---- 8000T/Year

 Power input

 300KVA---800KVA

 Power Consumption

 200KW---450KW

 Machine Size

 35M*15M/20M*1 3M

 Container Requirement

  8--15X40'HQ

Working Process
Raw material (Polypropylene Granule ) →Pellet feeding ( Masterbatches)→Melting and Extruding→Filtration→Metering→Spinning→Air drawing→Web forming→Thermal calendering→straining→Rolling up→Cutting and packing (As per the attached design)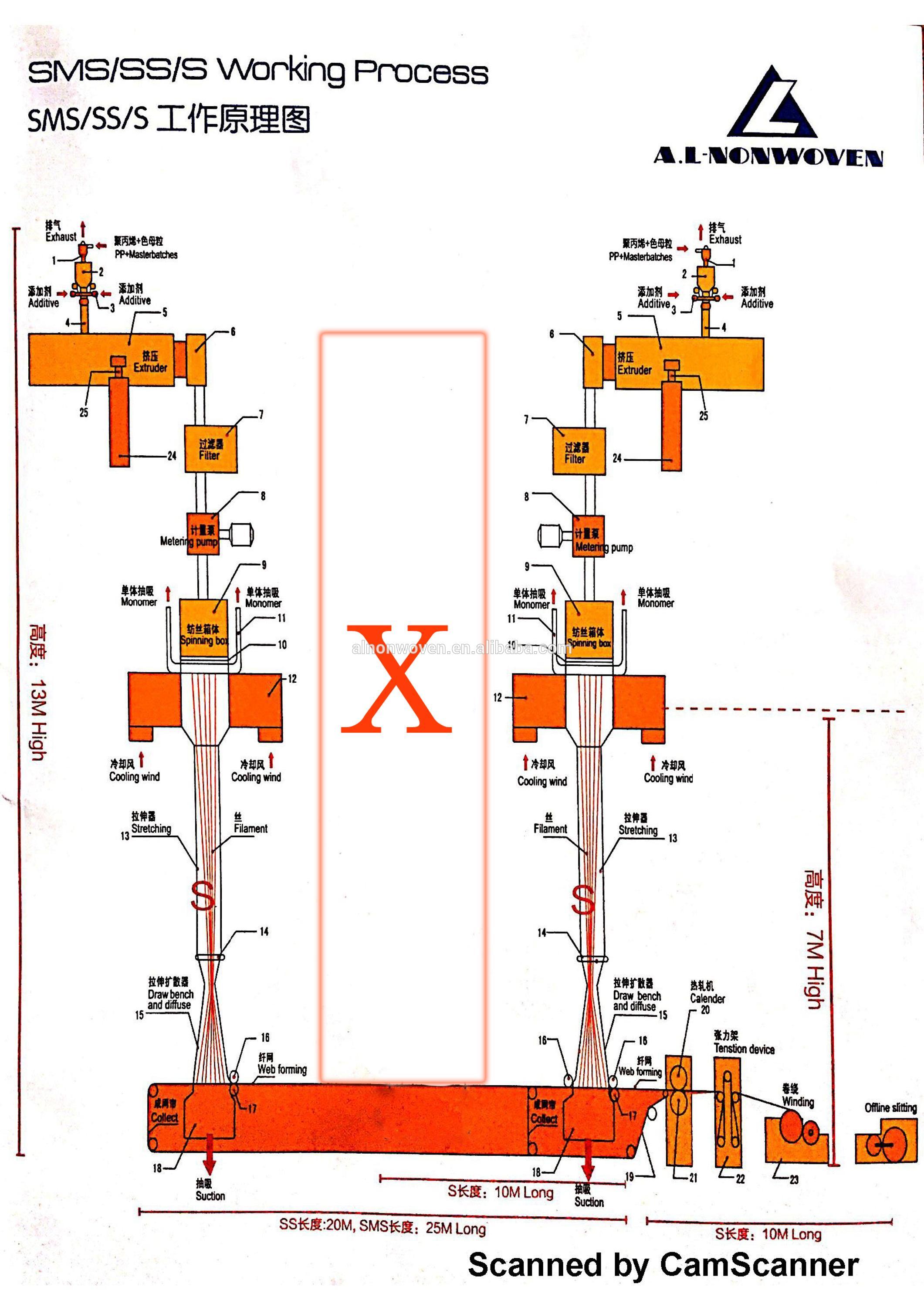 This line is the professional manufacturing non-woven fabric equipment. Our company conjugates overseas advanced technology and domestic producing situation, gives a sober assessment of the situation, developed autonomously into the professional equipment. It is featured by lower investment, compact construction, small area, simple production technology, simple operation, saving of labour and widely compatibility and so on.
AL-SS style production line can produce high quality double layers nonwoven fabric. It can be widely used in Medical and Health, Agricultural and Parking and Linning.